The Fowling Warehouse Ypsi-Ann Arbor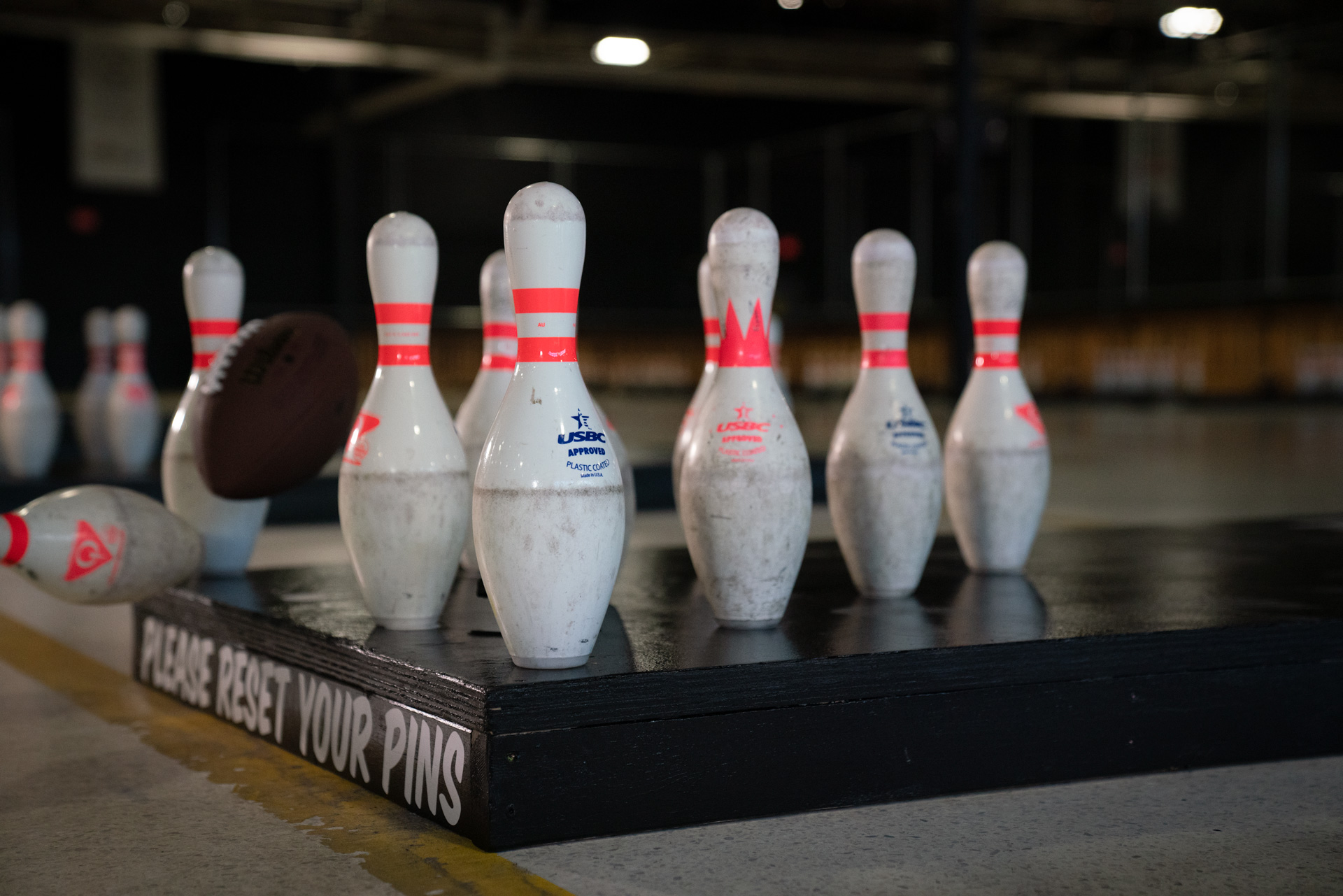 What is Fowling?
The Original Football Bowling Pin Game
It started as a one-lane mashup of football and bowling while tailgating at the 2001 Indy 500. Today, Fowling is quickly turning into a national sensation. Give it a try and you'll see.
How Do You Play?
It's as easy as throwing a football at ten bowling pins until someone knocks them all down. BONK™. Drink. Repeat. Check out the short, simple rules to find out about Fair Ups, Overtime, Sudden Death and more.

We will be CLOSED on Tuesday, October 31, 2023 for Halloween!!
OKtoberfest!
Saturday September 30  5P-10P
Four Tickets for the Price of Three!!
Save $30!
Welcome to The Fōwliing Warehouse Ypsi Ann Arbor's first Octoberfest! Sample 10 beers from 10 different craft brewers, Fōwl all night long and compete in a charity tournament!  It all benefits Ele's Place Ann Arbor, a healing center for grieving children and teens. https://www.elesplace.org/
Purchase tickets in advance for only $30 on Eventbrite at https://FowlingWarehouseOctoberfest.eventbrite.com or at the door for $35.  Purchase 10 more samples for only $15.
GROUP SPECIAL:  Purchase 4 Tickets for the price of 3.  Buy them on EventBrite or at the Fowling Warehouse front desk
Food and Desserts!  Nikki G's Smoked Pizza truck will be in the parking lot.  Grab a Nothing Bundt Cakes Charity Bundtini for only $1.
Plus, enter the CHARITY DOUBLES TOURNAMENT for only $10.  All proceeds go to Ele's Place.  Winner gets an entire rink for two hours, 5 lanes/50 people/$750 value!
Let's raise a lot of money for Ele's Place, have a great time, try some new beers without having to invest in a whole pint and throw some footballs at bowling pins for a good cause!!
Want to Volunteer and serve beer for a great cause?  E-mail us now at info@fowlingwarehouseya2.com
Corporate and Private Parties
Plan Your Next Event at Fowling Warehouse™
Whether it's a small gathering or a major blowout, creating an unforgettable experience will be simple.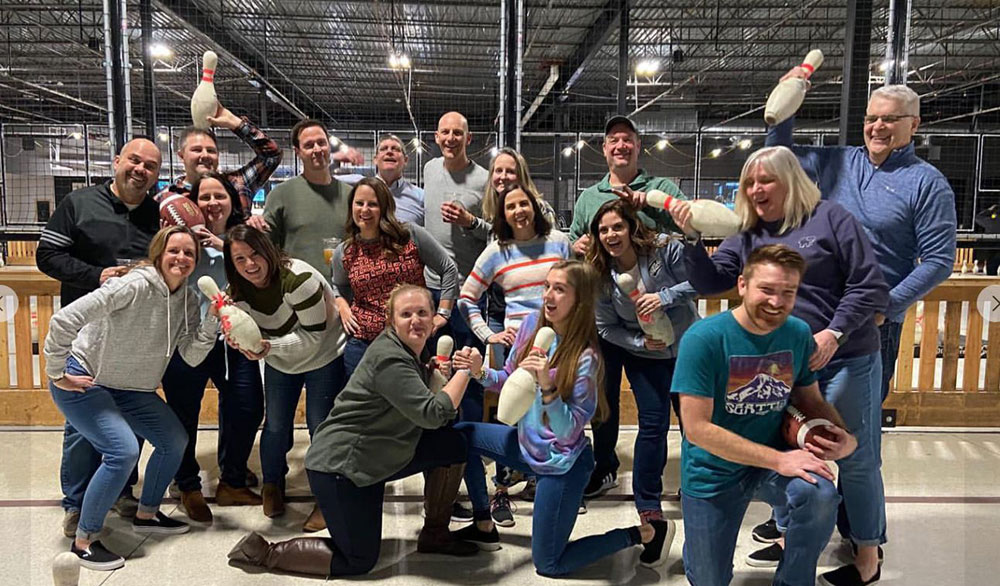 Student ID for 3!
We've missed the students and faculty from the three Colleges and Universities that surround our location; U of M, EMU and WCCC.  To welcome back students and provide a discount we have our Student ID for 3 program.  Bring your student ID on 3 weekdays, Tuesday, Wednesday or Thursday and Fowl for 3 Hours (4P-7P) for only $3 dollars.  September 2022 to April 2023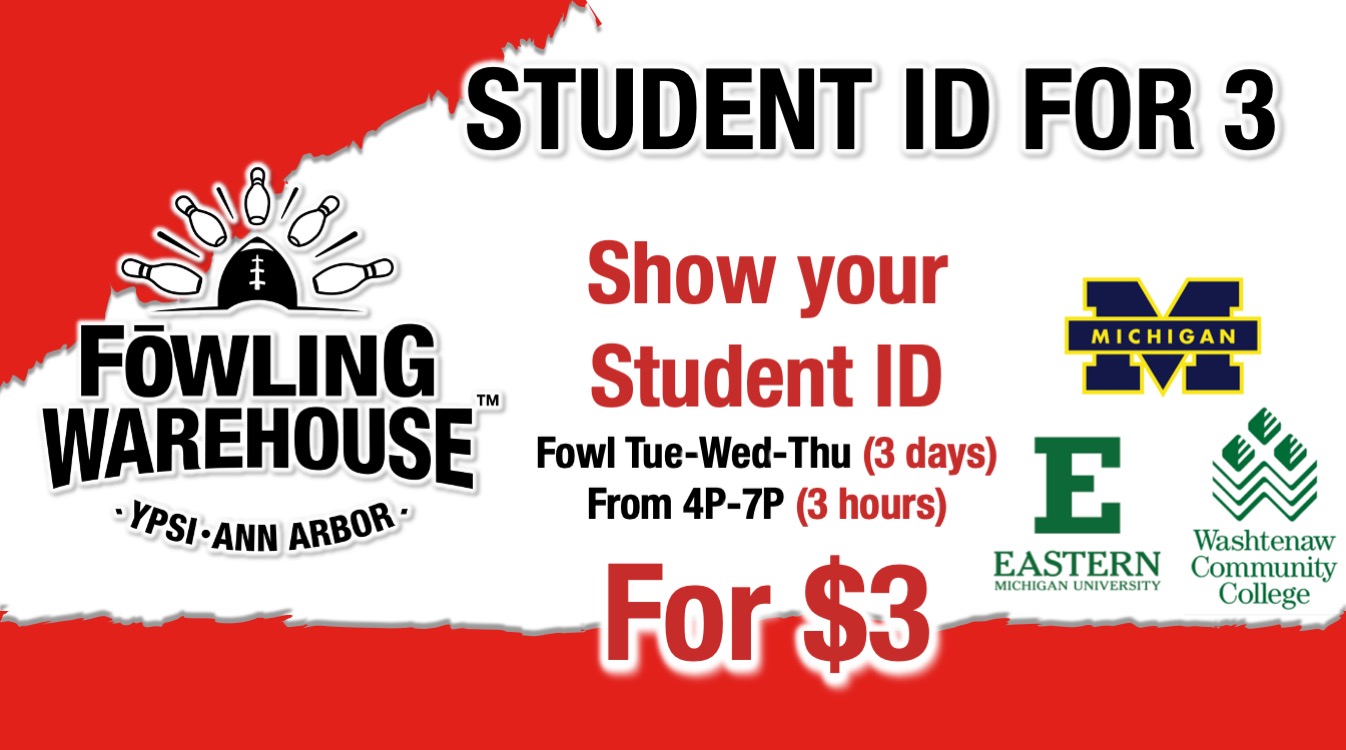 emu pregame Fowling Tailgates
Come join the Fowling Warehouse for our EMU Pregame Fowling Party out in the parking lot across Hewitt from Rynearson Stadium.  The Mobile Fowling Unit will be there EVERY GAME with a couple of lanes set up so you can FOWL FOR FREE!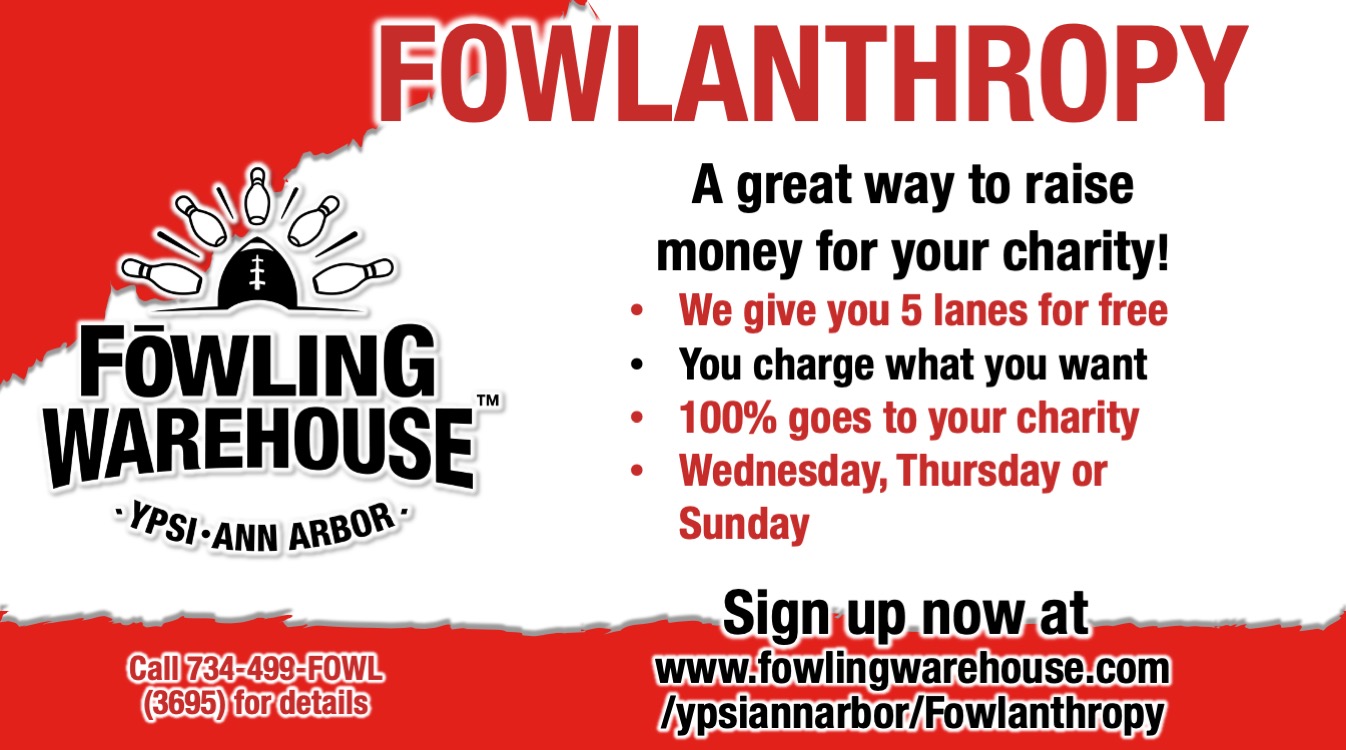 Fowlanthropy!
On Wednesdays, Thursdays and Sundays in 2023 we will offer 100% of the cost of entry to your organization.  We charge $12.00 per person to the public for open play, but you may charge more to increase the amount of donations for your charity.  This works as a great introduction to the Fowling Warehouse for the community while helping your organization provide much needed services to students and residents.  Contact us at info@fowlingwarehouseYA2.com or click here to fill out a form for more information on the Fowlanthropy program.
Fowlers Need Food
Great food is fuel for great Fowling. So BYOF. Bring your own pizza, sandwiches, tacos, smokin' hot chili or mom's deep-dish apple pie. You want it delivered? That's cool with us.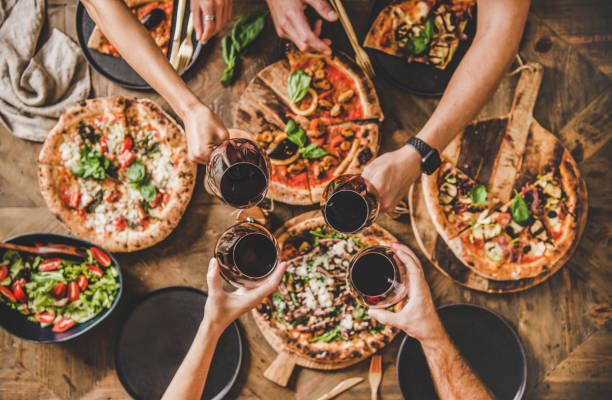 Super Stocked Bar
Here at the birthplace of the Mystery Beer Machine™, we've got something for everyone. Enjoy liquor, wine, nonalcoholic beverages and beer that fills from the bottom—Bottoms Up!!

We have a full bar or Liquor and make some pretty tasty mixed drinks, shots and bombs. Wondering what we're pouring or mixing?  Click the appropriate button below.
Gift Cards
Send someone you know the gift of Fowling!
Purchase a gift card from the Fowling Warehouse Ypsi-Ann Arbor.
Card amount must be between $ 5 and $ 500
and must be a whole number (no decimal).  The maximum amount per order cannot exceed $1,000
You can choose an eGift Card, delivered via email and printable if you prefer to hand deliver them.
Or you can order a Physical Gift Card, shipped by mail. Please allow 5-7 business days for standard delivery.
Hotels
Coming to town for some Fowling?
Here's a list of nearby Hotels.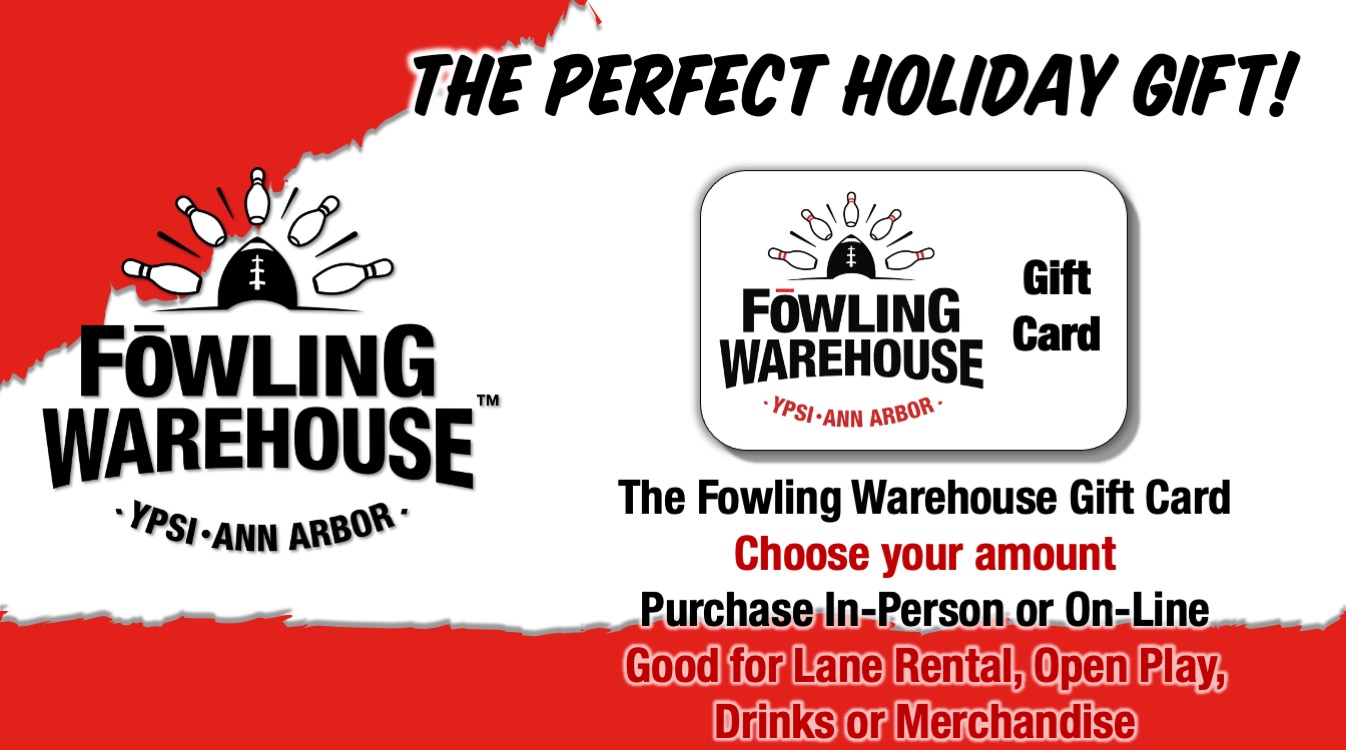 Bonks!!
Each time someone throws a Bonk here at the Fowling Warehouse Ypsi Ann Arbor we stop everything for the ceremony.  First, you are awarded the actual pin you Bonked on as a souvenir of the occasion.  Next you log your name into the "permanent record" of Bonkers.  Next you write your name on the Bonk Board.  Best for last, you pull the lever that sets off the BONK HONK, our 140-decibel freighter horn (think Joe Louis Arena's goal horn) to announce your entry into the Bonk Hall Of Fame.  The latest Bonk Board is just to the right. Click the link if you want to see each month's Bonk Board and a list of EVERY BONK ever made at the FWYA2!!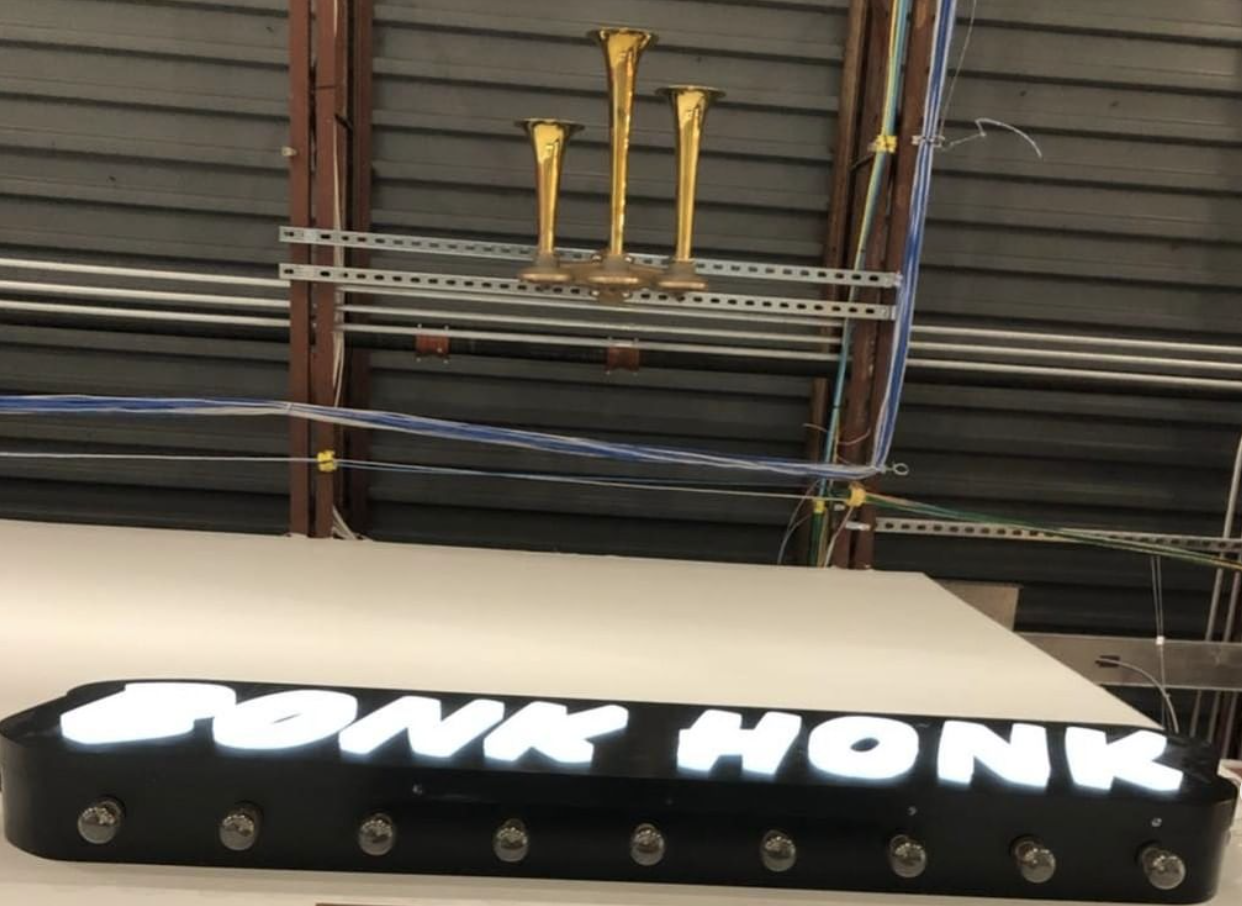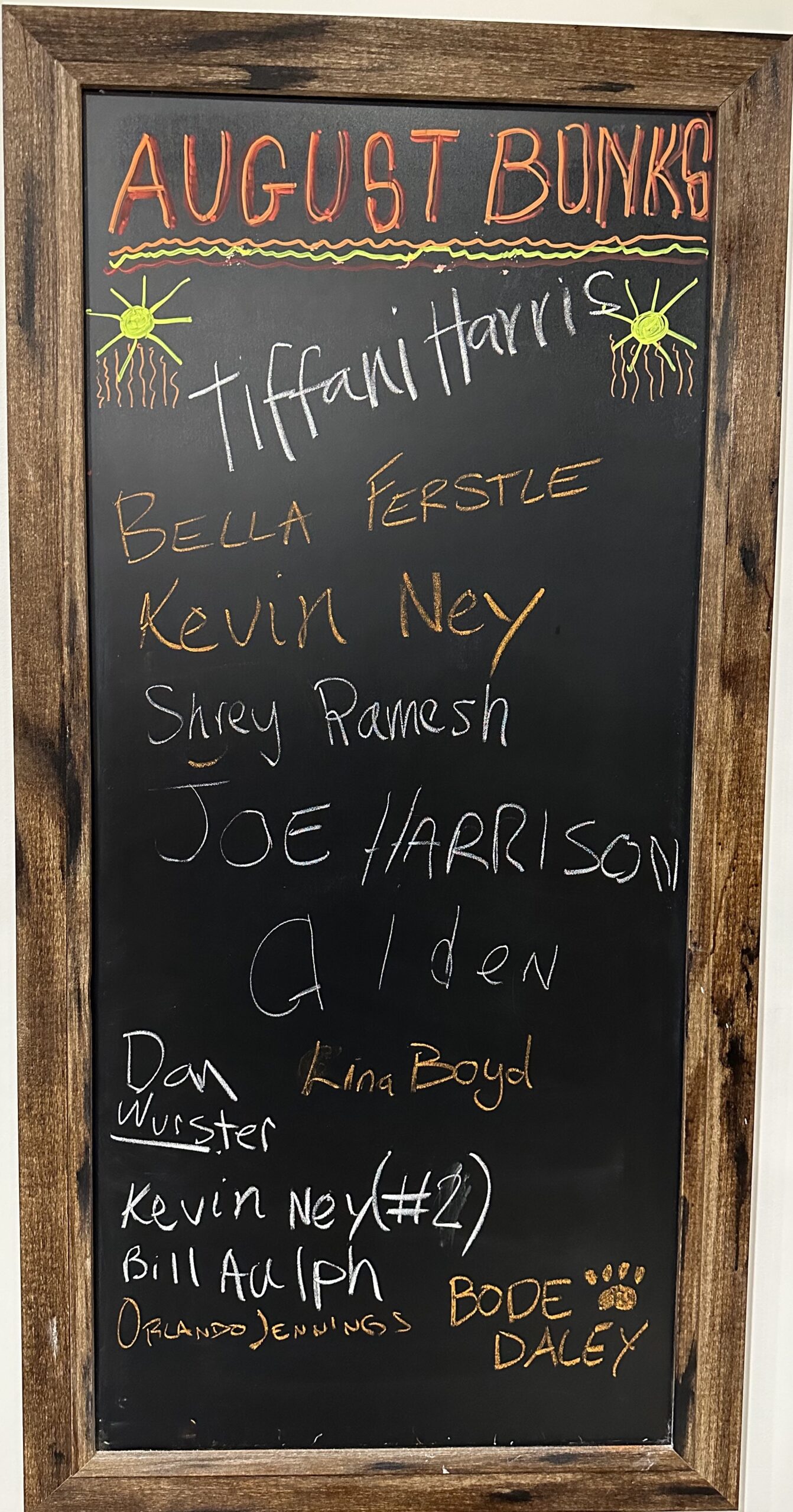 THE MFU  (Mobile Fowling Unit)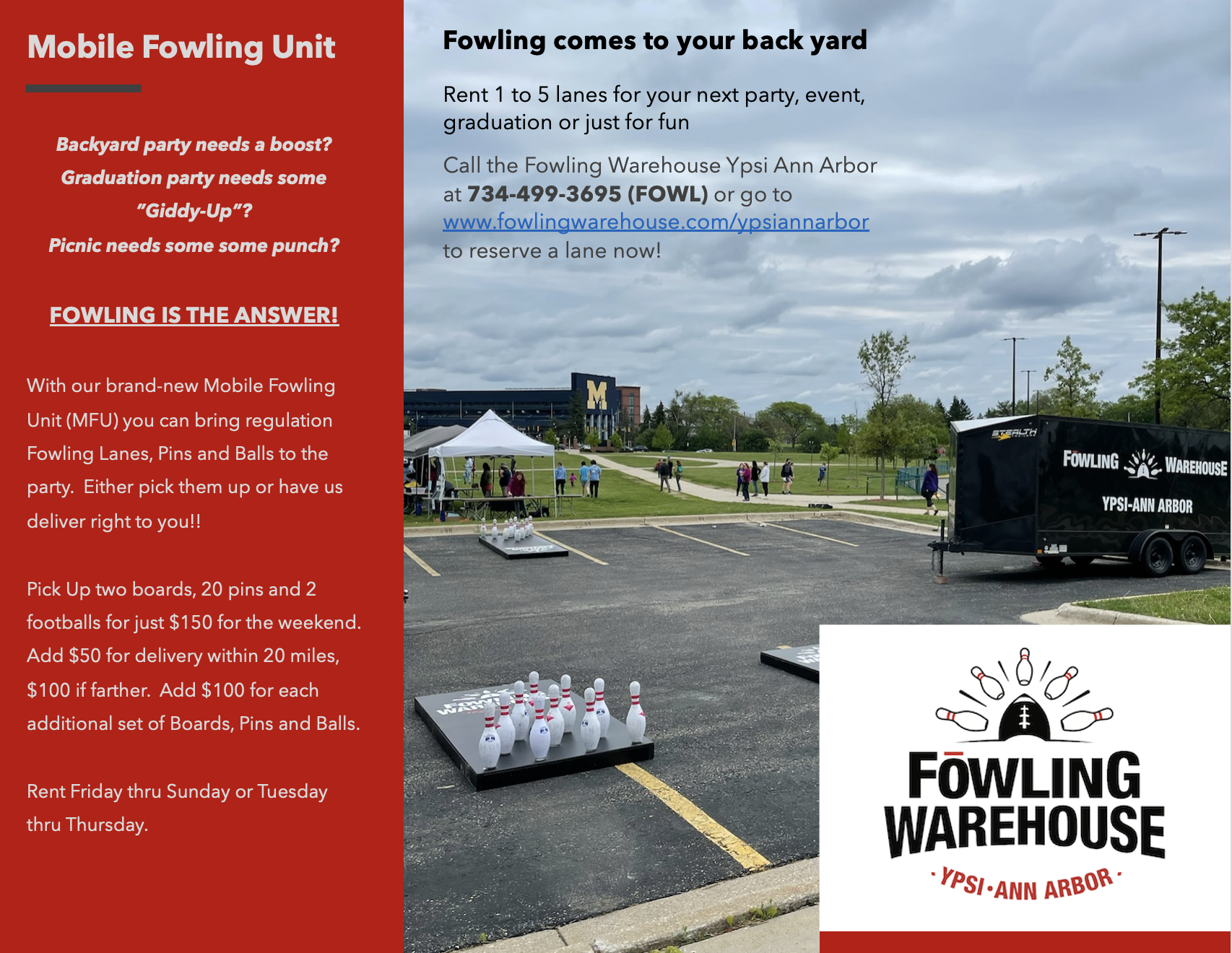 You've fowled at the Warehouse.  Now you can fowl in your own back yard, graduation party, company event, civic event, block party, wherever!!
For $150, you can pick up 2 boards, 20 pins and 2 footballs and set them up yourself.
For $200 we will deliver it right to your place and set it up for you.  Add $50 if we have to travel more than 20 miles.
Add $100 for each additional lane, either picked up or delivered.
You can rent for the weekend (Friday through Sunday) or Weekdays (Tuesday through Thursday).  Pick Ups and Deliveries happen on Tuesdays and Fridays.  Just fill click the "BOOK THE MFU" button above to reserve your lanes and we will contact you about delivery and placement the day of your event.  #FowlOn OUTDOORS!!
3D Tour of the Fowling Warehouse Ypsi-Ann Arbor
Fōwling™ Built For The Road
Can't visit a Fōwling Warehouse™ but still got that itch? Now you can bring the Fōwling™ experience to your next tailgate, BBQ, beach day, or backyard gathering. Pick up a set at your local Fōwling Warehouse™ or click here to order your set today!