Get your group Fowl On!
Interested in Fowling for your large group or corporate outing?  You can make reservations for 50 people or less yourself at Alleytrak.  Just click the button below.
If you have over 50 people in your group, please email us at info@fowlingwarehouseYA2.com for any questions and we can help guide you to a great event!
The Fowling Warehouse is a great place for your next work party, team building event, holiday gathering, graduation party or birthday party.
Why be locked into a table at a restaurant with the same 8 people when you can mix and mingle while you go Fowling, the original Football Bowling Pin Game!
The Fowling Warehouse Ypsi Ann Arbor has 20 Fowling Lanes, 2 full bars and 18 TVs.
Our Fowling Guide will lead you to your lanes, help set up tables, stools and spools for your party and teach you how to Fowl.  We can even set up a tournament for your group.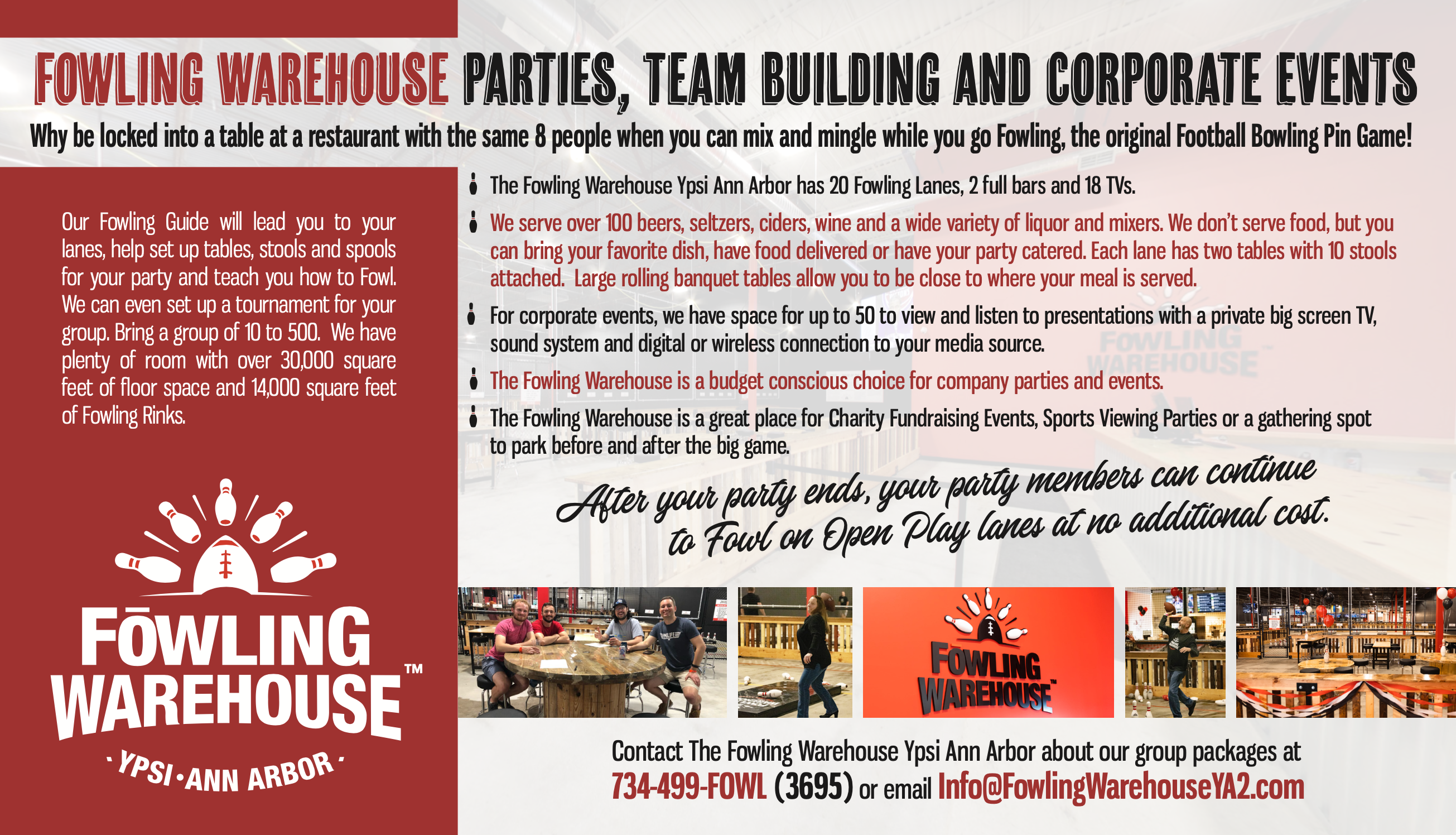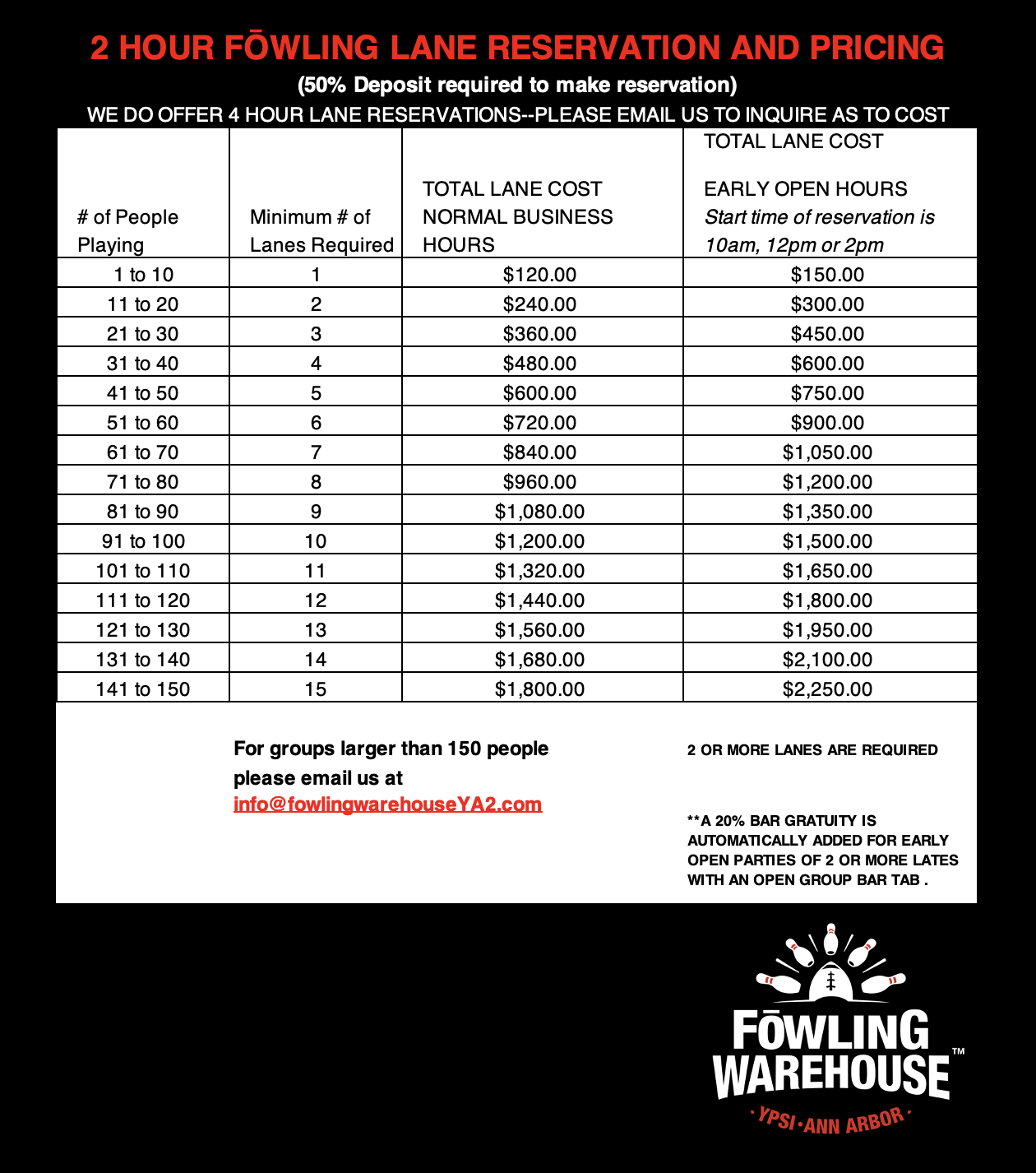 Bring a group of 10 to 500.  We have plenty of room with over 30,000 square feet of floor space and 14,000 square feet of Fowling Rinks.
We serve over 100 beers, seltzers, ciders, wine and a wide variety of liquor and mixers.
We don't serve food, but you can bring your favorite dish, have food delivered or have your party catered.
For corporate events, we have space for up to 50 to view and listen to presentations with a private big screen TV, sound system and digital or wireless connection to your media source.
The Fowling Warehouse is a budget conscious choice for company parties and events.  Prices average $12 per person with 10 people per lane.
Each lane has two tables with 10 stools attached.  Large rolling banquet tables allow you to be close to where your meal is served.
After your party ends, your party members can continue to Fowl on Open Play lanes at no additional cost.
The Fowling Warehouse is a great place for Charity Fundraising Events, Sports Viewing Parties or a gathering spot to park before and after the big game.
Pricing
During Business Hours — $120 per lane for two hours for each 10 people.  Before Open — $150 per lane for two hours for each 10 people.
Contact The Fowling Warehouse Ypsi Ann Arbor about our group packages at 734-499-FOWL (3695) or email Info@FowlingWarehouseYA2.com
fowlanthropy
Raise Funds for your charity!
Raise Fun for your charity!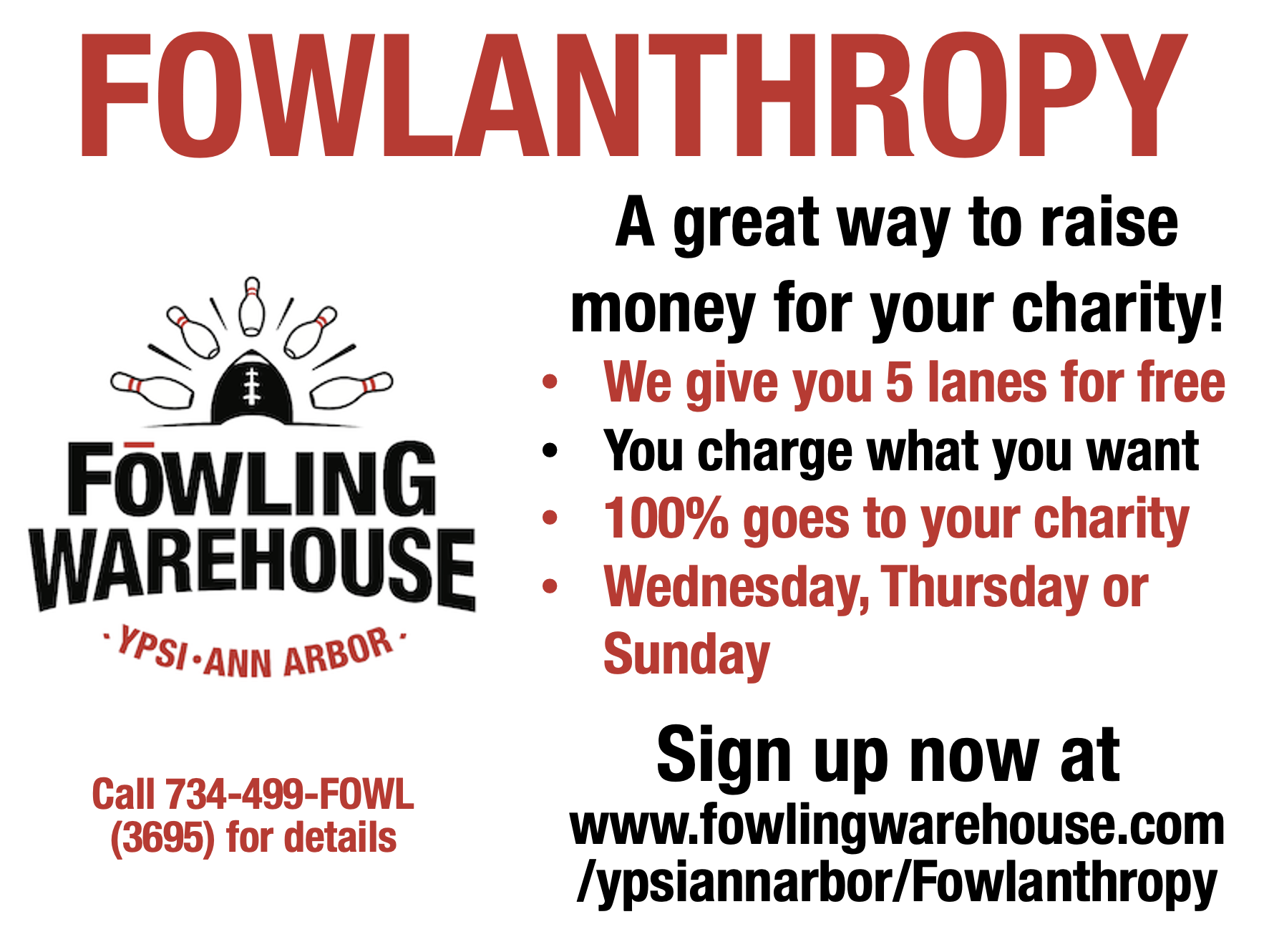 Fowlanthropy
On Wednesdays, Thursdays and Sundays in 2023 we will offer 100% of the cost of entry to your organization. We charge $12.00 per person to the public for open play, but you may charge more to increase the amount of donations for your charity. This works as a great introduction to the Fowling Warehouse for the community while helping your organization provide much needed services to students and residents. We will read this form and respond to you about booking a date for your event as soon as possible.