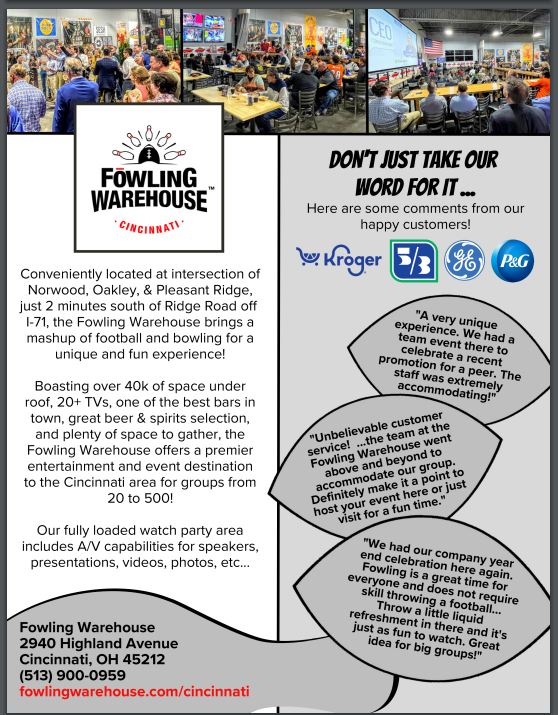 Corporate Events
We open ANY day at ANY time of day for our corporate partners!  Meet, Eat & Play!  Our event team will help you build a productive day of meetings in our air-conditioned event space, drinks and a meal if you choose PLUS a company wide Fowling tournament for team building!
Is my group the right fit?
We customize packages for any size party, any type of group and for any budget!
Can we come in during your off hours?
YES!  We don't have off hours for corporate events, fundraisers or group events.  We'll open Fowling Warehouse on any day and at any time for you!
How do we get started?
Simply email Tami@FowlingWarehouseCincy.com to get the conversation started!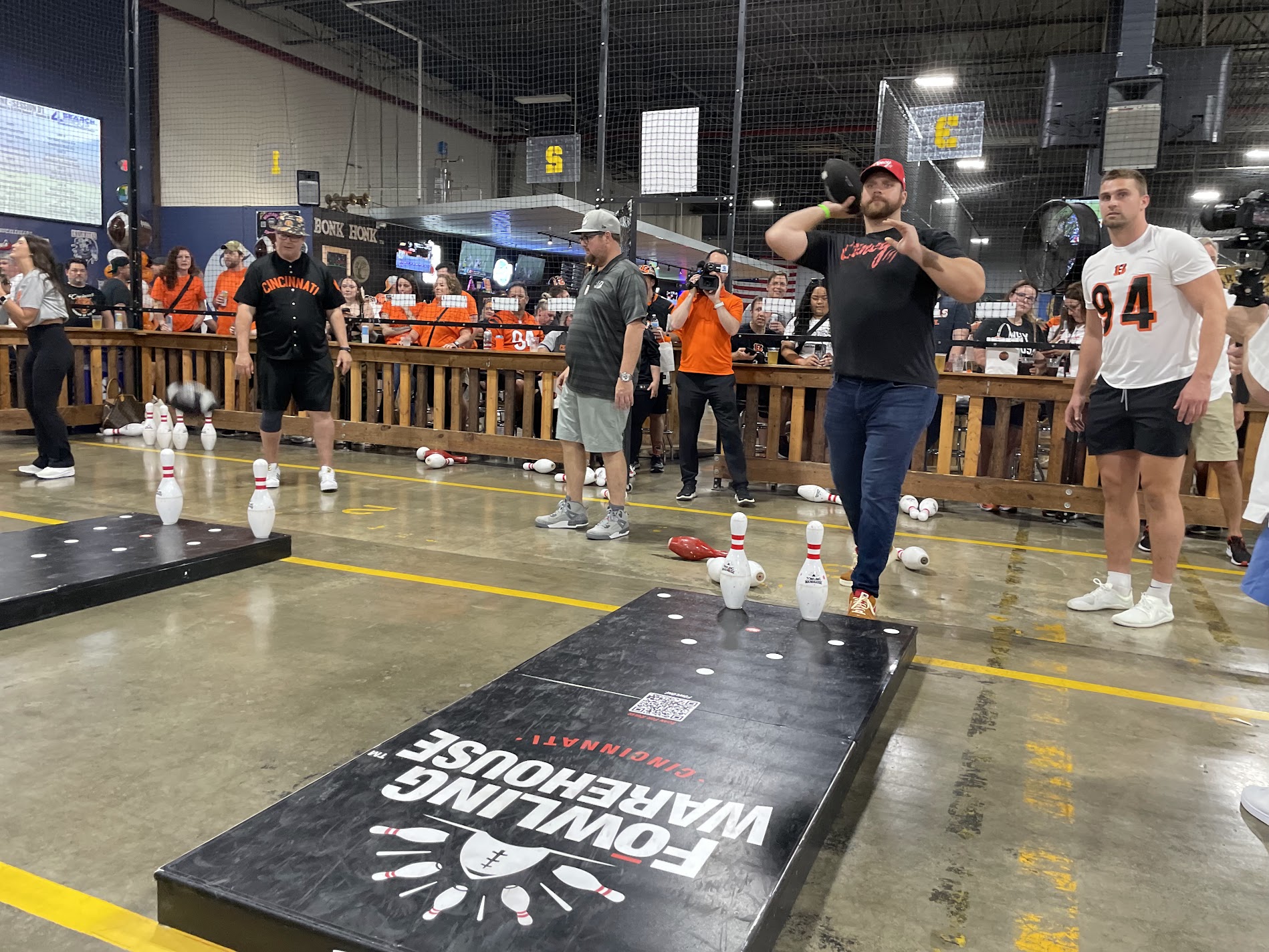 FOWLanthropy!
In just a few short years, we've helped Cincinnati's best and brightest non-profits raise hundreds of thousands in donations!  How?  By holding fundraising events at Fowling Warehouse!
Who have you worked with?
The Sam Hubbard Foundation, Big Brothers Big Sisters, Ohio Valley Voices, The United Way and area youth sports programs are just some of the groups we've helped!
Why Fowling Warehouse?
We've all been a part of golf outings, car washes and 5k's but a fundraising event at Fowling Warehouse gives your group something unique to rally around and get excited about!
How do we get started?
Simply email Tami@FowlingWarehouseCincy.com to get the conversation started!
FAQ's
Where are you located?
Conveniently located at the intersection of Norwood, Oakley & Pleasant Ridge, just 2 minutes south of Ridge Road off I-71, the Fowling Warehouse offers a HUGE event venue that can be customized for your specific needs. 
What amenities do you have?
With over 40,000 square feet of space under one roof, 20+ TV's, hundreds of local craft beers, full bar and excellent catering network, Fowling Warehouse offers a premier entertainment and event destination to the Cincinnati area for groups from 20 to 2,000!  We also offer a fully loaded meeting space & watch party area with A/V capabilities, speakers, presentation stage and more at NO extra cost! 
How much does it cost?
We customize each one of our events based on need.  The number of people in your group, day, time of day, beverage and food needs are details we'll need from you to develop a quote.  Call 513-900-0959 so we can get the conversation started and put together a package for you!