Get your group FowlOn!
Fowling Warehouse Grand Rapids has hosted some of the best company events, corporate retreats, team building meetings, bachelor/bachelorette parties, wedding rehearsals, graduation parties and birthday parties in Grand Rapids, Michigan!  Fowling Warehouse Grand Rapids is the best place to host your event or party!
You can make reservations for 40 people or less yourself at:  AlleyTrak – Lane Reservations For Bowling, Axe Throwing and more – Reservations Made Simple .
If you have over 40 people in your group, please email us at info@fowlingwarehousegr.com so we can help personally guide you to a great event!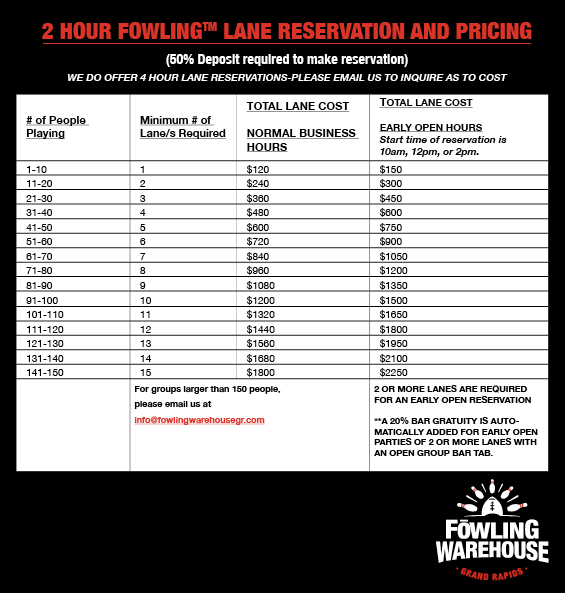 "We had our hockey party here on a Sunday.  Excellent place!  Well run, well organized and a super fun game! Thank you".   Twinmom918
"Super fun place and awesome staff!  Fun atmosphere.  Perfect for parties."  Phillip Davey
We also can help you raise money for your favorite groups and charities!
We offer special pricing for events Sunday through Thursday: $9 per head; $12 a head if you choose to have your event on a Friday or Saturday.
Please email us at info@fowlingwarehousegr.com and see how we can help you get those $$$!
Think of all the ways you can raise money – get sponsors and hang up their logos (we've got lots of wall space), sell raffle tickets, silent auctions….