AS OF JAN 19, 2023 OUR KITCHEN IS BACK OPEN
Please note you cannot bring in any outside FOOD OR DRINK ! This includes water bottles, coffee, etc.  
In-House Menu
Whenever you come in to play, our kitchen is available!  Just walk up to the kitchen window, place your order, and pick it up when it's ready. Simple as that.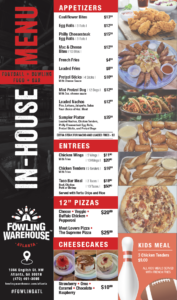 Catering Menu
If you are planning an event –
You can choose from our Catering Menu!