LAST FRIDAY TOURNAMENT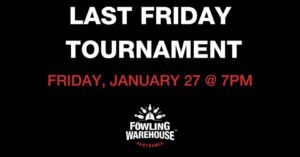 Join us on the last Friday of every month for a Fōwling Tournament!
Tournament Details:
All skill levels welcome.
Bring your own partner, double elimination format.
$20 per person; $10 for Open Play and $10 to enter the tournament. Stay and play on the open play lanes after the tournament!
Cash prize for first place team
Tournament starts at 7PM, show up early to warm up and sign up.